OUR PHILOSOPHY
SOOPH is a fashion-label from Berlin. We focus on the modern interpretation of iconic jacket cuts, such as the Varsity Jacket, the Bomber Jacket, the Army Parka or the Harrington Jacket.
In January 2013 we launched the first collection: "The Varsity Collection"
The Varsity Jacket is a classic jewel in the crown of street fashion. It represents a timeless icon of 20th century subcultures from Rock 'n' Roll to Skateboarding and Hip-Hop. Impacted by street culture, ethnic fabrics and high-end fashion SOOPH embraces and combines all these different influences to create a variety of jackets that strive to look beyond the present.
In addition to the varsity jacket collection SOOPH Berlin offers customizable jackets. One can choose between a wide variety of options to create his own "one of a kind"-jacket.
SOOPH is made in Berlin! The jackets are produced from the highest quality materials with modern cuts which are executed in Berlin. Since responsibility and a transparent production line is important for the label, a direct contact to the manufacturer is essential. The heart of SOOPH beats in Berlin. A place where it can gain from a wide network of artists, designers, dj's, musicians and friends: the roots that feed our constant inspiration.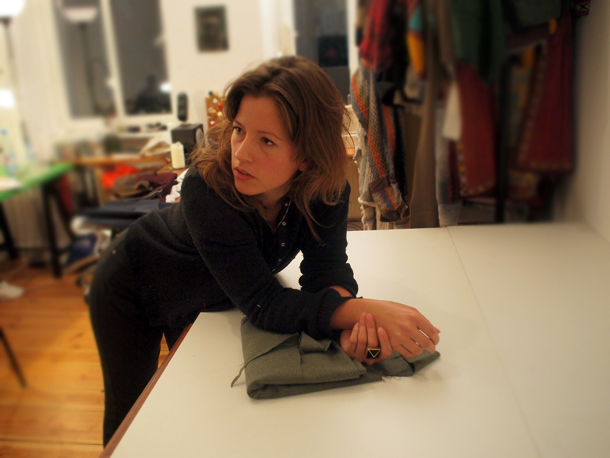 History: The Berlin born fashion designer Sophie vom Scheidt graduated with a Masters degree in Fashion in 2007. Shortly thereafter, she began working in a graphic design office in Amsterdam, while traveling the world and working as a freelance stylist.
Back in her home city she founded her very own label SOOPH in 2010.
Besides running the fashion label, SOOPH enjoys working on various interdisciplinary projects with the focus on fashion and lifestyle.
For various artists such as The Very Best, Das Racist or Leslie Clio SOOPH created band-outfits and costumes for events. Furthermore she organized music events and was in charge of the styling for fashion shoots and dance performances.